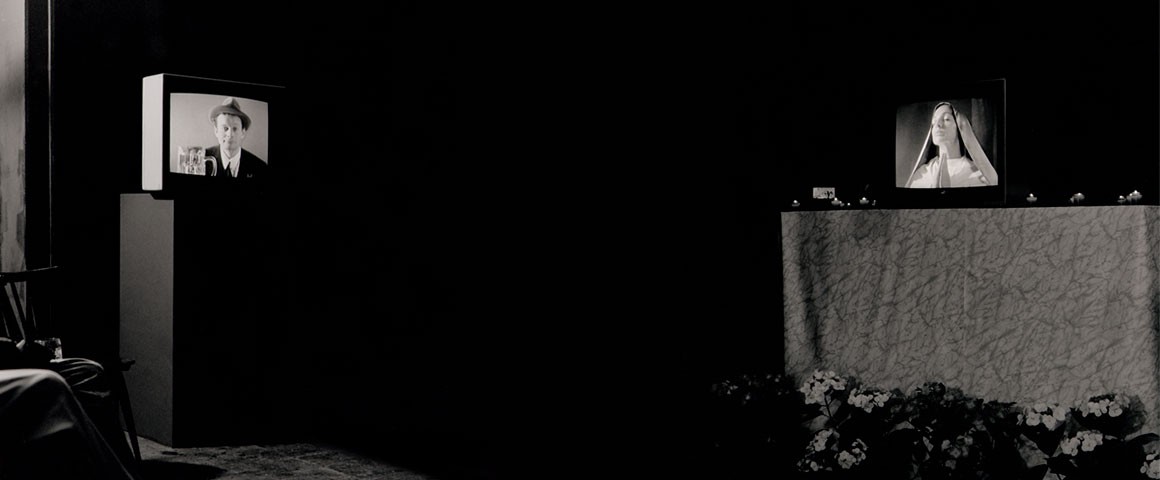 Madonna Mia I
1991 – video installation for 2 monitors
Two monitors face each other with a distance of about 10 meters, one on a black wooden pedestal, the other on an "altar", a large box covered with a marble-textured plastic sheet. On the floor in front of the "altar" flowers are placed.
On this "video altar" "Maria" (Evelyn Plank) tries to keep her posture with folded hands. Opposite her, the "Mary-worshipper" (Axel Meinhardt) tries to attract her attention. He calls her, he sings pious songs that pay homage to her, he toasts her, smiles, courts her favor. "Mary," however, only occasionally allows herself to respond in small ways.
A woman is worshipped, in an ambiguous sense. And we quasi worship the television and all the "heavenly things" that appear in it. A Marian devotion with a wink and a very Bavarian video installation... Bavaria, you religious land! Madonna mia, Patrona Bavariae!